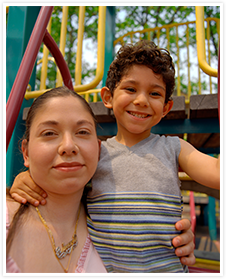 Founded in 1982 initially as a shelter for women with infants. My Sisters' Place has today grown to include:
Sue Ann Shay Place, which provides supportive housing for male and/or female headed households
Mary Seymour Place apartments for single individuals
Through these sites and its related programs, My Sisters' Place has helped more than 26,000 people in our community, providing them with a warm place to stay, food for themselves and their children, and services that are designed to get them back onto the road to independence – including medical care, management of financial affairs, and much much more.
To learn more about the specific programs and services offered at My Sisters' Place, click here.
---
My Sisters' Place, Inc. Privacy Policy
My Sisters' Place, Inc. is committed to ensuring that any personal information it collects in the course of doing its business will be:
Securely stored in a manner that safeguards its confidentiality;
Accessed by, and/or provided to, only those people with a verified and legitimate business need for it;
Properly destroyed (shredded for paper records) or erased/ made unreadable (electronic media) when being disposed of.
For the purposes of this policy, personal information includes but is not limited to: Social security number, driver's license number, state or municipal identification number, account numbers, a credit or debit card number, a passport number, an alien registration number, or a health insurance identification number, or any other personal identifiers that are not part of the public record.